Sale!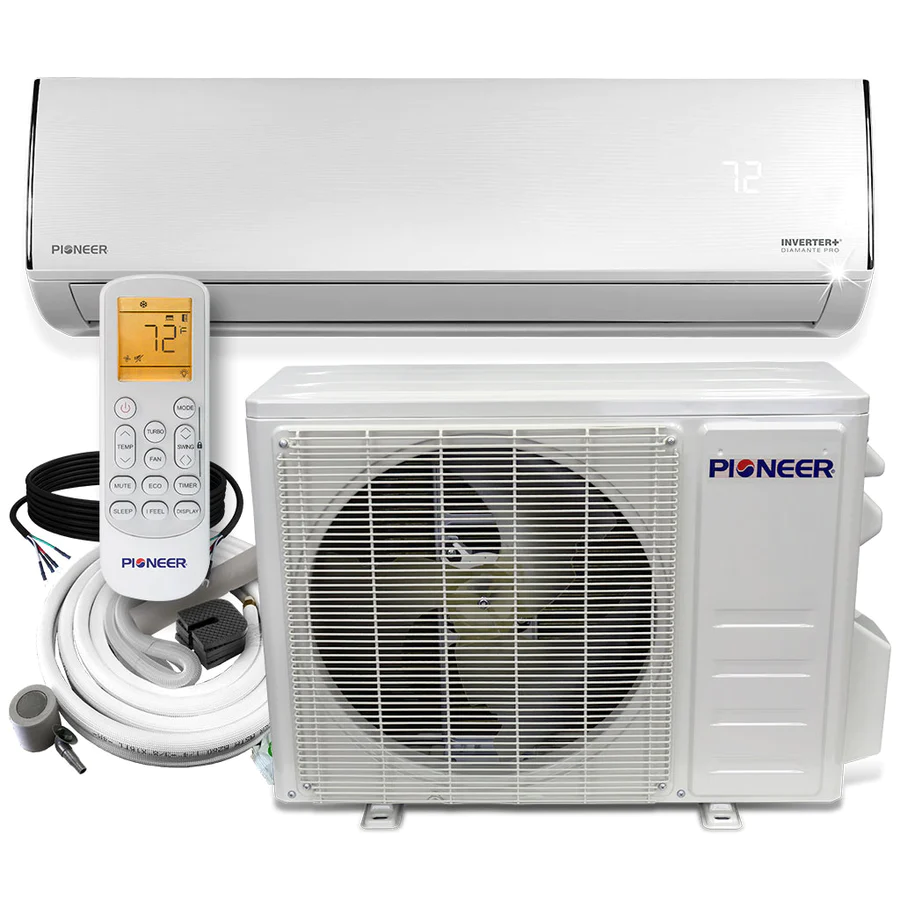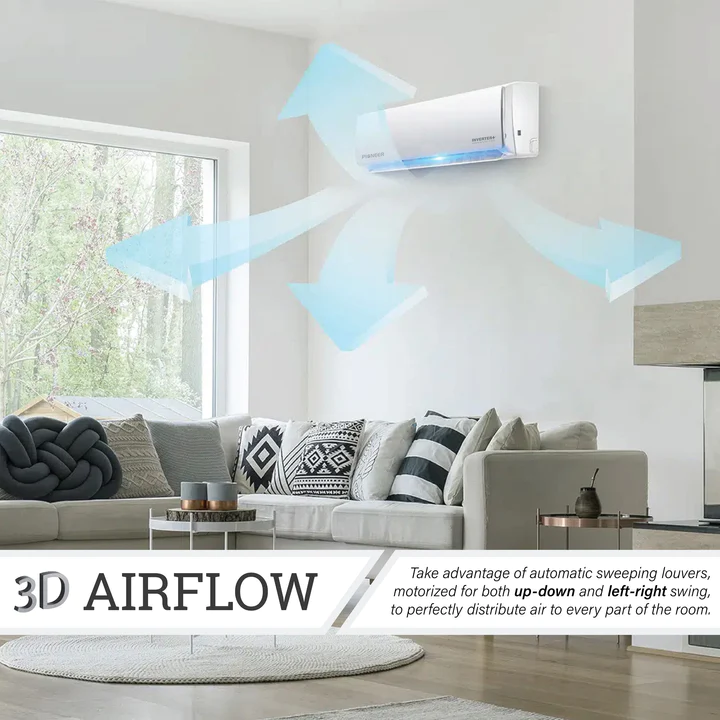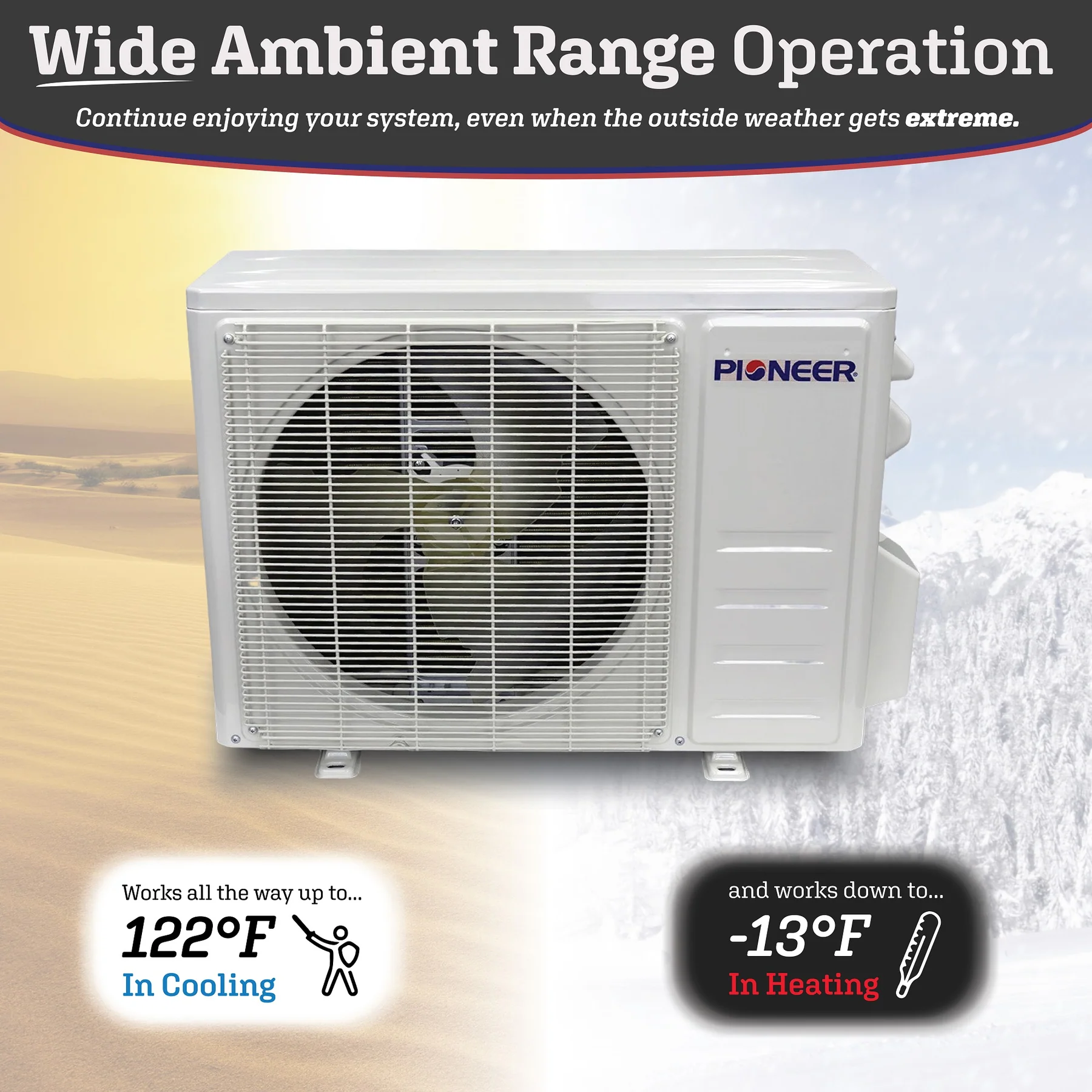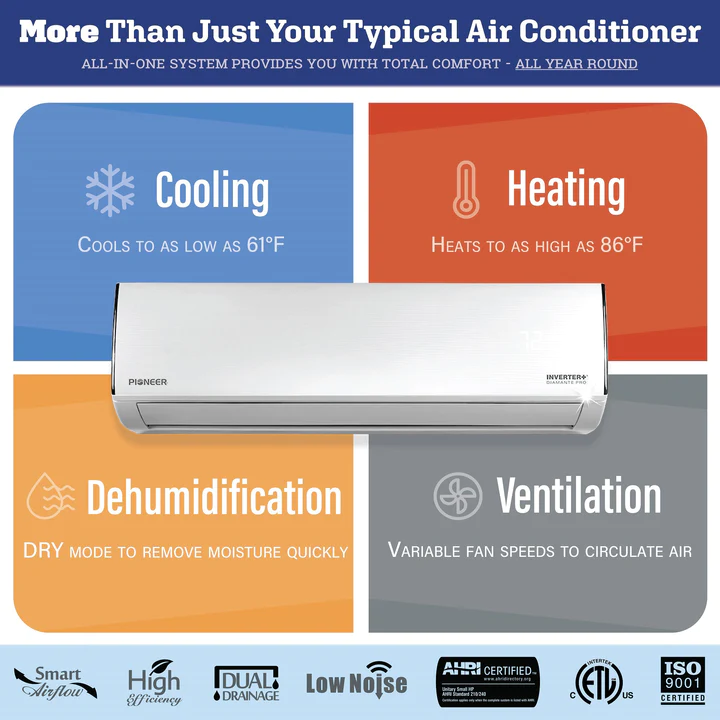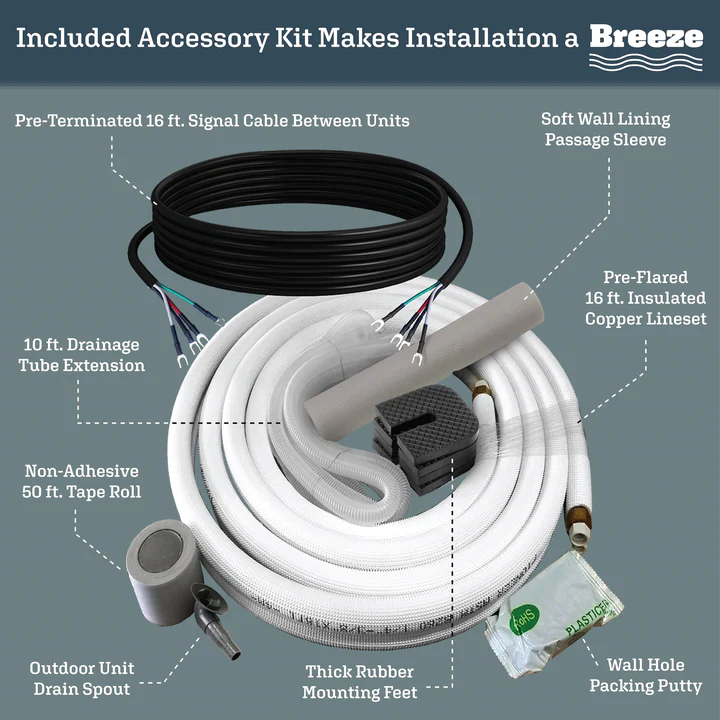 Pioneer Diamante Ultra 12,000 BTU 115V Ductless Mini-Split Energy Star Rated
Introducing the Pioneer Diamante Ultra 12000 BTU 115V Ductless Mini-Split with an impressive 22 SEER2 rating! This innovative device is designed to provide you with a comfortable indoor environment, no matter the outside temperature. Experience superior performance and energy efficiency with Pioneer's cutting-edge technology. Get your hands on the Pioneer Diamante Ultra today!
Sale!
Warranty Pioneer Models
Unless this high-quality product is registered properly as soon as it is put in service, all references made in this document to the term "warranty" solely refer to the Basic Warranty, as further defined below. If this high-quality product is registered properly as soon as it is put in service, all references made in this document to the term "warranty" refer to the Standard Warranty, as further defined below.
Warranty is provided by Parker Davis HVAC International, Inc. (hereinafter referred to as PD), the supplier of Pioneer® branded Split System Heat Pump Products (hereinafter referred to as Products), covering all parts of the Products, subject to the following details:

Types of Installations: Warranty applies to all Products, installed in a residence. Warranty also applies to Products classified as light commercial Products, installed in commercial properties.
Product Registration: Registration is not required for the availability of the Basic Warranty. Warranty registration is strongly urged and required for the validity of the Standard Warranty. To register the Product, within one week after the Product is properly installed, fill out the warranty registration card packed with the Product and send it in as instructed in the form OR conveniently register online at pd‐hvac.com and use the registration link.
Exclusions to Warranty Coverage: Warranty does not apply to any Product that:

Are installed outside the United States of America.
Are operated in unoccupied structures or used for purposes other than comfort cooling/heating.
Are residential Products, but installed or used for commercial purposes.
Has been removed from the place it was originally installed and reinstalled at another place.

Warranty Coverage: The warranty covers the parts of the Products, which may become defective due to the quality of the materials or workmanship, under normal use and proper maintenance.
Warranty Does Not Cover: PD is not responsible for any warranty claim due to:

Damages or repairs arise as a result of a faulty installation or wrong application.
Damages or repairs arising from any external perils, out of PD's control, such as fires, storms, accidents, floods, broken or frozen water pipes, electrical surges, input power with under or overvoltage, lightning, or the existence of corrosive substances nearby.
Damages or repairs arising from the use of non‐compatible parts, alterations, modifications, or  improper applications.
Necessary maintenance is required for the proper operation of the equipment, such as cleaning of all air filters, heat exchangers, fans and blowers, any necessary lubrication of internal components and maintenance of external accessories.
Damages or repairs needed because of using parts, supplies or other add‐on components that are not supplied by or approved for use by PD.
Damages or repairs as a result of improper use, poor maintenance, wrong operation or improper service.
Changes that can be considered cosmetic, not affecting the systems performance, including but not limited to small fin damages.
Resetting of power or the circuit breakers and replacement of other types of fuses, both internal and external.
Any damages of repairs caused by the use of dirty, recycled, wrong type or unapproved refrigerants and lubricants.
Damages or repairs due to moisture, air, dust, sand, dirt, etc., that have been allowed into the system by improper handling of system parts and components during installation.
Damages or repairs caused by continuing use the Product, after a malfunction has been noticed or indicated at the display module, through an error code.
Damages or performance issues due to improper matching, Product selection, under‐sizing, over‐sizing, improper installation or misuse.

Warranty Begin Date: Warranty begins on the date of installation and commissioning of the Product, in existing residences and commercial buildings and on the date of sale of the dwelling, for the new residential construction to the first buyer. However, the warranty beginning date cannot exceed a date, further than 6 months following the manufacturing date of the Product as coded in the serial number. Warranty is provided only to the first original owner of the Product, where it is originally installed, and is not transferable to the subsequent owners.
Warranty End Date: Products that have not been registered as instructed above are covered under the Basic Warranty. The Basic Warranty lasts for a period of up to one year. Products that have been properly registered as instructed above will be covered under Standard Warranty. The Standard Warranty lasts for a period of up to five years as further explained below in detail and only as long as the original registered owner, own and reside in the dwelling, or operate the business in the property, in which the Product had been originally installed.
Remaining Warranty: Any part, component or Product that was replaced under the terms of the warranty will be covered under the same warranty and only for the duration in which the original warranty for the Product is applicable, as commenced on its begin date.
Warranty Procedure: PD will furnish a new or remanufactured replacement part, without any charge for the part itself, for the replacement of any part that has been determined to have failed, by PD at its sole discretion, due to defects in its materials or workmanship under standard use and proper maintenance. Associated shipping costs for the replacement parts may also be covered at PD's expense, at its own discretion and under certain conditions, while the shipping method used will be solely determined by PD. Otherwise, the payment of the shipping costs for the part will be the sole responsibility of the owner of the Product. PD reserves the right to ask the owner of the Product to return the failed part to PD, before or after a replacement part may be sent out.
Labor cost, materials and other costs: Any labor costs and/or the costs for the supplies or materials used or purchased in the field for the replacement of the defective part, remain the responsibility of the owner. No other costs, involved in diagnosis, lodging, transportation, servicing, repair, replacement, installation, removal, shipping, etc., are to be covered under the warranty.
Refrigerant: Any costs related to charging, recharging, adjustment, or removal of the refrigerant, and the cost of the refrigerant itself, are not covered under any circumstances. All Products go through vigorous quality controls at various stations and leave the factory in perfect working and sealed condition. Products are individually tested in highly sensitive helium vacuum chambers for existence of refrigerant leaks. Therefore PD does not cover any claims related to the lack of refrigerant in new Products, discovered upon arrival, or during installation, as well as subsequent refrigerant losses occurring at any time afterward.

Obtaining Warranty Service: To obtain warranty service, owner must first contact the installer or any other qualified contractor, to determine the cause of the failure and diagnose the Product. PD provides diagnostic information such as manuals and videos based on certain error codes Product may display and at the lack of any specific error codes, based on certain symptoms observed and specific electrical and mechanical measurement made and recorded by the installer or other contractors, as needed or required for the proper diagnosis. PD is not able to remotely diagnose a Product and or offer remedies, without proper diagnosis results submitted to it. Upon determination by the installer or contractor that the failure is caused by a defect covered under this warranty, the owner, installer or contractor may contact PD and request warranty service. When contacting, the following forms and information need to be provided:

Copies of the official warranty registration card and any purchasing documents, showing the model and serial numbers and purchase and installation dates.
A report prepared after the diagnosis, indicating the nature of the defect, name and model number of the defective part, failure date, and if known, the reason for the failure and the remedy determined.
PD might ask for photos and other diagnostic information it deems necessary prior to processing the warranty claim.

The remedies provided above are the sole remedies for any failure of PD to comply with its obligations. Correction of any nonconformity in the manner and for the period of time provided above shall constitute complete fulfillment of all the liabilities of PD, whether the claims of the claimants are based in contract, in tort (including PD's negligence or strict liability) or otherwise with respect to or arising out of the Products furnished hereunder. PD, its contractors, dealers, and supplier of any tier, shall not be liable in contract, in tort (including PD's negligence or strict liability) or otherwise for damage or loss of other property or equipment, loss of profits or revenue, loss of use of equipment or power system, cost of capital, cost of purchased or replacement power or temporary equipment (including additional expenses incurred in using existing facilities), claims of other's to the claimant, or for any special, indirect, incidental, or consequential damages whatsoever. The remedies of the owner set forth herein are exclusive and the liability of PD with respect to any claims, arising from the sale and use of the Products sold under this warranty agreement or anything done in connection therewith such as the performance of the breach thereof, or from the manufacture, sale, delivery, resale, or use of any Product covered by or furnished under this warranty agreement, whether in contract, in tort (Including PD's negligence or strict liability) or otherwise shall not exceed the price of the Product or its parts on which such liability is based.
This warranty is not transferable.
No person or entity is authorized to change the terms and conditions outlined in this warranty agreement, in any respect, or to create any additional obligations or liabilities for any party involved.
This warranty agreement supersedes any and all prior warranty agreements between the parties and constitutes the complete, final and exclusive understanding of the parties with respect to the subject matter. All prior negotiations, representations, or promises, whether oral or written, of either party shall be deemed to have been merged herein.
If any part of this warranty agreement shall be invalidated for any reason, such part shall be deleted and the remainder shall be unaffected and shall continue in full force and effect.
This warranty provides you certain legal rights and you may also have other rights, which vary from State to State. Therefore, some of these limitations or exclusions may not apply to you.
Pursuing legal remedies:
ARBITRATION CLAUSE. IMPORTANT. PLEASE REVIEW THIS ARBITRATION CLAUSE, AS IT AFFECTS YOUR LEGAL RIGHTS.

This arbitration clause affects your rights against PD and any of its employees, agents, affiliates, successors, or assigns, all of whom together are referred to below as "we" or "us" for the simplicity of reference.
ARBITRATION REQUIREMENT: EXCEPT AS STATED BELOW, ANY DISBUTE BETWEEN YOU AND ANY OF US SHALL BE DECIDED BY NEUTRAL AND BINDING ARBITRATION, RATHER THAN ANY COURT OR BY TRIAL BY JURY. ARBITRATION WILL BE HANDLED ONLY ON AN INDIVIDUAL BASIS AND ALL PARTIES EXPRESSLY WAIVE; ANY RIGHTS TO PARTICIPATE AS A CLASS REPRESENTATIVE OR CLASS MEMBER, ANY RIGHTS TO CLASS ARBIRATION OR ANY CONSOLIDATION OF INDIVIDUAL ARBITRATIONS. THE ARBITRATOR WILL BE A MEMBER OF THE AMERICAN ARBITRATION ORGANIZATION. The meaning of "Dispute" has the broadest possible meaning allowable by law, including any controversy, claim or other dispute, relating to or arising from the purchase of the Product, any of the warranties upon the Product, or the condition of the Product, as well as the determination of the application or the scope of the Arbitration Clause itself. Rights to appeal and discovery are also limited in arbitration based on the rules of the arbitration organizations.
Governing Law: Effect and procedures of arbitration will be governed by the Federal Arbitration Act (9 U.S.C. § et seq.) rather than any related state law. In case of any substantive warranty, your claims and rights under such substantive warranty will be governed by the applicable law of the state in which Product was purchased.
Location of the Arbitration: Unless otherwise provided under the applicable law, arbitration hearing will be conducted in the judicial district in Miami‐Dade County, Florida.
Costs of the Arbitration: Unless otherwise provided under the applicable law, each party will be responsible for; its own costs payable to the arbitration organization, and the costs of their attorneys, experts or other fees.
Survival and Enforceability of the Arbitration Clause: This arbitration clause will survive the expiration or termination of this warranty agreement, indefinitely.
Pioneer Diamante Ultra 12000 BTU 115V Ductless Mini-Split 22 SEER2 Inverter++ Energy-Star Wi-Fi Air Conditioner Heat Pump Full Set with 16 Ft. Kit
If you are looking for a reliable and energy-efficient cooling and heating system for your home or office, you might want to consider the Ultra High Efficiency Diamante Ultra Ductless Mini Split Heat Pump System. This system offers a cooling capacity of 12,000 BTU/H with 22 SEER2 / 12.5 EER2 efficiency and a heating capacity of 12,000 BTU/H with 9.0 HSPF2 / 3.5 COP efficiency. It operates on 110/120V, 60Hz, 1Ph voltage and can be installed on any high wall without ductwork. It also features a variable speed DC inverter operation mode that adjusts the compressor speed according to the room temperature and reduces noise and power consumption. Moreover, this system can operate in low ambient temperatures as low as -13°F, making it suitable for cold climates. One of the best features of this system is that it comes with wireless internet access included, which allows you to control and monitor your system remotely via a free smartphone app. You can also check the AHRI estimated annual operating costs of this system, which are $72.00 for cooling and $254.00 for heating, based on national average electricity rates and usage patterns. The Ultra High Efficiency Diamante Ultra Ductless Mini Split Heat Pump System is a smart and eco-friendly choice for your comfort and convenience.
What's Included
Indoor Unit
Outdoor Unit
Wireless Remote Control (with wall holder and batteries)
Internet Control Module
16 Ft. Copper Lines
16 Ft. Electrical Wire
10 Ft. Drain for indoor/outdoor
Wall Passage Sleeve
Putty for Wall Hole
Leak Guard Sealer
Wrapping Tape
Installation Manual
User's Manual
Our Guarantee
5 years Warranty for Parts (Extendable to up to 7 years)
5 years for Compressor (Extendable to up to 10 years)
| | |
| --- | --- |
| Weight | 82.7 lbs |
| Rebate Available | |
Performance Data
Power Supply: 115V, 60Hz, 1Ph
Cooling Rated Capacity: 12,000 BTU/h (1 Ton)
Rated Power Input (Cooling): 920W
Cooling SEER2: 22 BTU/W.h
Cooling EER2: 12.5 BTU/W.h
Heating Rated Capacity: 12,000 BTU/h (1 Ton)
Rated Power Input (Heating): 910W
Heating HSPF2: 9.0 BTU/W.h
Heating C.O.P.: 3.5 W/W
Refrigerant Type: R410A
Recommended Application Area: 200~450 Sq.Ft
Indoor Unit Data
Part Number: WT012ALFI22HLD
Air Flow (Hi/Med/Lo): 471 / 382 / 294 CFM
Sound Level (Hi/Med/Lo/Mute): 39/34/29/27 dB(A)
Net Dimensions (WDH): 36-1/4 x 7-5/8 x 12 Inches
Carton Dimensions (WDH): 39 x 10-3/8 x 15 Inches
Net / Gross Weight: 23.1 / 26.5 Lbs
Outdoor Unit Data
Part Number: YN012ALFI22RPD
Sound Level: 52 dB(A)
Net Dimensions (WDH): 28-5/8 x 12 x 21-5/8 Inches
Carton Dimensions (WDH): 33-1/2  x 14-1/8 x 24 Inches
Net / Gross Weight: 51.8 / 56.2 lbs
Electrical Circuit Size: 20A (single pole)